Posts for: September, 2013
By Golden Dental
September 23, 2013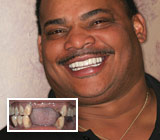 This is the story of a well-known man, fearless in most respects, who was afraid of the dentist. Even though his fears had resulted in neglect and serious damage to his teeth, modern dentistry and a talented dental team were able to restore his smile to health. If you share this fear, his story may inspire you to take action.
We're talking about William Perry, former defensive lineman and fullback for the Chicago Bears. Here is a man who could fearlessly face a football squad — but not a visit to the dentist. Nicknamed "The Refrigerator" for his 380-pound massive frame, Perry played for ten years in the NFL before retiring in 1994. Since retiring he founded and operated a construction company in South Carolina in addition to making celebrity appearances.
With his celebrity in mind, a team composed of a talented restorative dentist, implant surgeon, and lab technician agreed to give "The Fridge" a makeover. After discussing modern technology and virtually pain-free dentistry with him, they managed to overcome Perry's fears. "I had been in constant pain for many years and I neglected myself, not having had any dental care for over 20 years, not even emergency care. Unfortunately, as I grew older my teeth started to get loose," Perry told an interviewer. He had lost many teeth and became known for his gap-toothed smile.
Perry had severe gum disease and many of his remaining teeth were loose. In the past his only option would have been a full set of dentures. But his new dental team was able to place dental implants (permanent tooth replacements) supporting fixed bridges. In most cases dental bridges are attached to healthy teeth, but in Perry's case the implants served as anchors for the bridges. They also stabilized his jawbone, which would otherwise "resorb" or melt away after his teeth were lost. This is important because it helps preserve the contours of his face.
After careful planning "The Fridge" had eight dental implants placed in his upper jaw and seven in his lower. The final bridgework was completed four months later. It turned out that even though the gap between his teeth had become his trademark, "the Fridge" never really liked it. He was thrilled with his new smile.
Even if you have some fears, don't hesitate to follow Perry's example and make an appointment with us for a consultation about dental implants, smile makeovers, or bridgework. For more information about William "The Refrigerator" Perry, see the Dear Doctor magazine article "How Immediate Implants Saved 'Refrigerator' Perry's Smile."
By Golden Dental
September 13, 2013
If you're watching your weight or living with diabetes, you probably know the advantages of satisfying your sweet tooth with sugar substitutes rather than the real deal. Did you know that sugar substitutes can also help reduce your risk for tooth decay? One particular sugar stand-in, xylitol, might actually promote oral health!
Sugar substitutes are food additives that mimic the taste of sugar but supply little to no food energy (nutrition) and therefore zero or few calories. This is because they generally cannot be digested and absorbed by the body. They pass through largely unused and have little to no effect on blood sugar levels. Oral bacteria aren't able to process sugar substitutes either. They get significant nutrition from "real" sugars that pass through the mouth — generating tooth-eroding, cavity-promoting acids in the digestive process. A diet of artificial sweeteners eliminates or significantly curtails the acidity problem and essentially starves the "bad" bacteria so more tooth-friendly bacteria can crowd them out.
The Food and Drug Administration (FDA) has approved 6 artificial sweeteners (synthetically produced zero-calorie sugar substitutes) for use in the U.S.:
Acesulfame K — Sunett®, Sweet One®
Aspartame — Equal, NutraSweet
Neotame — a modified form of aspartame
Saccharin — Sweet'N Low, Sugar Twin
Sucralose — Splenda
Rebaudioside A — Truvia, Sun Crystals, Stevia in the Raw
There also are naturally occurring low-calorie sugar alcohols (polyols), used alone or in combination with an artificial sweetener. They are incompletely digested and absorbed slowly so the amount of calories they generate is minimal. Commonly used polyols include erythritol, maltitol, mannitol, sorbitol and xylitol. Research suggests that xylitol may help prevent tooth decay and promote oral health by reducing levels of the major acid-producing bacteria in the mouth, Streptococcus mutans.
Despite their virtues, there is debate regarding the safety of sugar substitutes — synthetic ones in particular. Currently the focus is on how they may affect taste perception, metabolism, and eating habits. From a dental perspective, however, the overall benefits for using xylitol are pretty clear!
If you would like more information about nutrition and oral health, please contact us or schedule an appointment for a consultation. You can also learn more about this topic by reading the Dear Doctor magazine article "Artificial Sweeteners."