Posts for tag: periodontal disease
By Golden Dental
April 28, 2016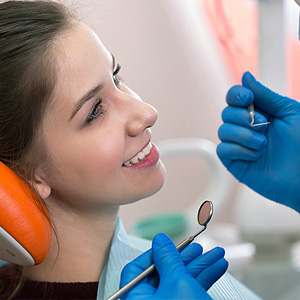 After treating you for periodontal (gum) disease for some time, we may suggest you see a periodontist, a specialist in gum conditions and diseases. There are a number of reasons for a referral, including the specific type of gum disease you may have developed.
Here are 4 more reasons why seeing a periodontist might be advantageous at this stage in your dental care.
Advanced treatment. All dentists are skilled in basic treatment procedures for gum disease, particularly removing plaque and calculus (hardened plaque deposits) that cause and sustain infections. But if your disease has advanced deeper below the gum line and has resulted in infection-filled void pockets between teeth and gums or in gum recession (the tissues shrinking back from the teeth), you may need more advanced techniques and equipment provided by a periodontist.
Advanced Cleanings. Regular, twice-a-year office cleanings are part of every dental care program. But depending on the severity of your gum disease (and your own hygiene efforts) you may need more frequent and advanced cleanings to keep recurring infections at bay. A periodontist can provide this, as well as help you develop a daily hygiene plan that meets your needs.
Your general health. There are a number of systemic conditions like diabetes, cardiovascular disease or pregnancy that can affect gum health. Many of these issues are tied to tissue inflammation, a major component of chronic gum disease, as well as slower tissue healing. As specialists in the gums and their relationship with the rest of the body, a periodontist can develop a treatment approach that coordinates with these other health issues.
Future restoration preparation. One of our treatment goals with gum disease is to try to prolong the life of natural teeth for as long as possible. In reality, though, some or all of your teeth may have a shortened life expectancy. If a comprehensive dental restoration is in your future, a periodontist can help prepare your gums for the inevitable. They may also be able to repair or restore gum tissues that enhance the appearance of a restoration to create a more attractive smile.
If you would like more information on advanced treatment for periodontal disease, please contact us or schedule an appointment for a consultation. You can also learn more about this topic by reading the Dear Doctor magazine article "Referral to a Dental Specialist."
By Golden Dental
December 14, 2015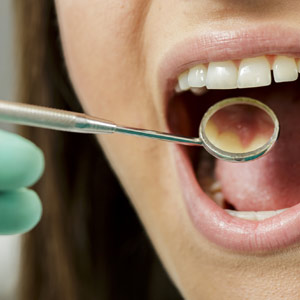 After a dental examination revealed you had periodontal (gum) disease, you began undergoing treatment. Now after several cleaning sessions, the infection has subsided and your gums have returned to a healthy shade of pink.
But your gum care isn't over — depending on the infection's severity you may need to visit us more often than the normal six months between regular checkups.
Gum disease arises from dental plaque, a thin film of bacteria and food remnants built up on tooth surfaces due to poor oral hygiene. The bacteria cause an infection in the gums, which initiates a response from the body's immune system that triggers inflammation.
Without proper treatment, periodontitis can come back in which the infection spreads deeper below the gum line. Pockets of infection can reoccur as gum tissues weaken and lose their attachment to teeth. This continuing damage can ultimately lead to both tooth and bone loss.
To stop the disease it's necessary to remove all the infection-causing plaque and calculus (hardened plaque deposits) from tooth surfaces, including around the roots. This is performed manually and could require surgery once again to access areas below the gum line.
To guard against this it's necessary for you to undergo regular periodontal maintenance (PM). Besides cleaning, PM gives us an opportunity to check for signs of returning gum disease and, if found, plan for another round of treatment.
Although not written in stone, the interval between PM appointments that seems the most effective for preventing recurrence is every three months. In cases of advanced, aggressive gum disease, appointments may need to occur at even shorter intervals, for example every two months.
PM for susceptible patients with decreased resistance to disease require extra time and effort for the hygienist, along with a renewed daily hygiene habit of effective brushing and flossing by you to keep the disease at bay. But preventing another occurrence of gum disease and its consequences is well worth this extra attention for the health of your teeth and gums.
If you would like more information on dental care after gum disease treatment, please contact us or schedule an appointment for a consultation.
By Golden Dental
August 01, 2014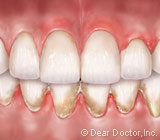 As we continue to learn about the delicate balance between the body's various organ systems, we're discovering what affects one part of the body may affect other parts. This is particularly true for patients with periodontal (gum) disease and one or more other systemic diseases — researchers have identified a number of possible links between them.
Here's a snapshot of three such diseases and how patients who suffer from them and gum disease may be affected.
Diabetes. Both diabetes (caused by the body's inability to produce insulin that regulates blood sugar levels) and gum disease can trigger chronic tissue inflammation. Because of inflammation, diabetics are more prone to infectious diseases like gum disease. From the other perspective, uncontrolled gum disease and its resultant inflammation can worsen blood sugar levels. Some research has shown treatments that reduce oral tissue inflammation in diabetics with gum disease may also help bring their blood sugar levels into normal range.
Cardiovascular Disease. Diseases of the heart and blood vessels can eventually lead to heart attacks and strokes, the world's leading causes of death. There's evidence that some types of bacteria that cause gum disease may also contribute to higher risks for cardiovascular disease. Reducing the levels of these bacteria in the mouth through periodontal treatment can help lower the risk of cardiovascular disease.
Osteoporosis. Like gum disease, osteoporosis causes acute bone loss, although from a hormonal imbalance rather than as the result of bacterial infection. The major link between the two conditions, though, relates to their treatments. On the positive side, the antibiotic doxycycline has displayed positive effects on both conditions when administered in low doses. On the other hand, a class of drugs known as bisphosphonates used to treat osteoporosis may limit bone regeneration after tooth extraction and could have implications for using dental implants to replace extracted teeth.
There's still more research needed on the relationship between gum disease and these and other systemic conditions. There's widespread optimism, though, that such research could yield new treatment approaches and procedures that bring better healing to the mouth as well as the rest of the body.
If you would like more information on the connection between oral and general health, please contact us or schedule an appointment for a consultation. You can also learn more about this topic by reading the Dear Doctor magazine article "Good Oral Health Leads to Better Health Overall."