Posts for category: Uncategorized
By Golden Dental
January 09, 2019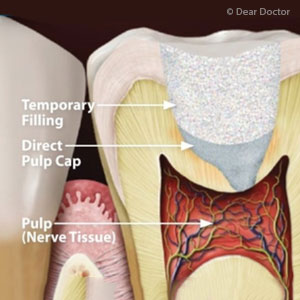 There's one sure thing about tooth decay: you can't ignore it. In fact, the best outcomes result from finding it early and treating it before it enters the pulp in the center of the tooth, often a filling or similar treatment.
If it does advance to the pulp, you may need a root canal treatment to save the tooth. This is a moderately invasive procedure where we access the pulp and root canals, tiny passageways leading to the root and supporting bone. We then remove all the diseased tissue and fill the empty pulp chamber and root canals with a special filling. Later we'll crown the tooth for added protection against future infection or fracture of the tooth.
But there's also another less-invasive method than a root canal called pulp capping. It's only appropriate to use, however, if the pulp has become exposed or almost exposed by decay, but hasn't yet shown signs of disease.
Pulp capping can be either direct or indirect. We use direct pulp capping if the healthy pulp has been exposed by the disease process. We first isolate the tooth from the rest of the mouth to prevent contamination and then proceed to remove all of the tooth's decayed dentin structure. We then apply a biocompatible material directly over the pulp to protect it from further decay and to facilitate healing. We then restore the tooth, usually with a filling, to its proper function and life-like appearance.
When the pulp is threatened by decay but not yet exposed, we may then use the indirect method. In this approach we first remove most of the decayed dentin, but leave a small amount next to the pulp to keep it covered. We then treat this remaining dentin with a material to help it heal and re-mineralize, followed by a temporary filling of the tooth. A few months later we'll remove this filling and inspect the treated dentin. If it has regenerated sufficiently, we remove any remaining decay and permanently restore the tooth.
As we said, pulp capping is only used with patients with deep decay whose pulp tissue is healthy. But when we can use it we can avoid some of the permanent alterations that often come with a root canal treatment and still save the tooth.
If you would like more information on treatments for tooth decay, please contact us or schedule an appointment for a consultation. You can also learn more about this topic by reading the Dear Doctor magazine article "Pulp Capping: A Procedure that May Save a Decayed Tooth."
By Golden Dental
January 13, 2015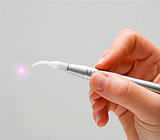 Without effective treatment, periodontal (gum) disease can eventually lead to tooth loss. That's why it's imperative to remove bacterial plaque and calculus — the main cause of the disease — from all teeth and gum surfaces. For moderate to advanced gum disease, this could require a procedure known as flap surgery to gain access to deeper infected areas.
This type of procedure involves making scalpel incisions into the gum tissue to create a flap opening. Through this opening we're able to gain access to the deeper pockets that have formed because of the tissue detachment that occurs following bone loss. The flap opening allows for better access to the root surfaces for removal of plaque and calculus (tartar). Once we've finished, we then suture the flap back into place to reduce the pockets and allow the area to heal.
While effective, flap surgery is considered moderately invasive and may produce mild post-procedural discomfort. Recently, however, a specially designed laser for periodontal therapy shows promise of less invasiveness and patient discomfort than traditional flap surgery.
A laser is an intense and narrow beam of light of a single wavelength. A periodontal laser can pass without effect through healthy cell tissue (like sunlight through a window pane) but interacts and "vaporizes" the darkly pigmented bacteria in diseased tissue. The laser energy is delivered in pulses to minimize any heat-related damage to healthy cells.
The periodontal laser can precisely remove diseased tissue, even where it mingles with healthy tissue. Once it's removed, the root surfaces can be cleaned with ultrasonic scalers and/or hand instruments. And because a medical laser seals the tissue it cuts, it doesn't produce open incisions as with flap surgery that require suturing afterward.
Studies of post-operative recovery after laser surgery showed similar infection reduction and renewed bone and tissue growth as with traditional surgery. Patients, however, reported much less discomfort after the laser procedure. Although more research is needed, it initially appears periodontal laser treatments can effectively treat gum disease with minimal interference with healthy tissue and greater comfort for patients.
If you would like more information on the use of lasers for the treatment of gum disease, please contact us or schedule an appointment for a consultation.
Welcome to the Blog of Golden Dental
Whether you are an existing patient or searching for a dentist in the Lancaster, CA area, we're excited you are here. With the dental industry advancing, we recognize the importance of keeping our patients and visitors up to date with all of the new and exciting things taking place in our practice.
As we move forward with our blog, we hope to promote dental awareness as a vital part of your healthy lifestyle. Here you will find a variety of articles and topics including dental news, advancements in dental technology and treatments, practical oral health advice and updates from our practice.
We hope you find our blog to be helpful, engaging and informational to ensure your best dental health.
As always, feel free to contact Golden Dental with any dental questions or concerns.
-- The Dental Team at Golden Dental